Racing in the Capitol, Richmond Virginia's Friendly Sports Backers
Road racing in Richmond is safe, fun, entertaining, challenging and popular thanks to the Sports Backers Triathlon Trial Lawyer Doug Landau has competed in the National Duathlon Festival, Monument Avenue 10km, HCA 8k, Cross Country Championships and other events in the Capitol of the Commonwealth of Virginia.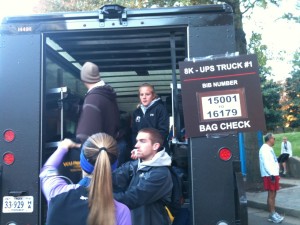 My wife participated in the Half Marathon, which had course amenities like junk food stops and wet washcloths. Once again, the Herndon Reston area sports injury lawyer participated in the HCA 8km (5 mile) road race, along with Brodie Reid, who was also attending the "by invitation only" annual Virginia Trial Lawyers Association ("VTLA") Advanced Workers Compensation Law Retreat. Richmond's races are famous for friendly and courteous volunteers who treat you like more than just a bib number. There were musical groups at today's race and one nearly every mile on the scenic course of the Monument Avenue event, along which several of Landau's clients and lawyer friends live and work. Runner's World magazine selected Richmond as a site for their Runner's World Challenge and to confirm what the Sports Backers have been saying all along: The SunTrust Richmond Marathon truly is "America's Friendliest Marathon"!