Doctors Fleeter and Sager Ready for Athletes' Emergencies and Sports Medicine Needs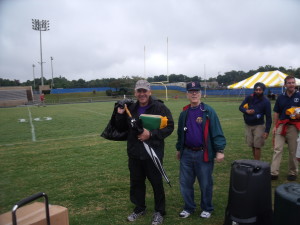 Long time Reston Doctors Tom Fleeter and Dennis Sager have contributed generously of their time, effort and resources to the Reston Triathlon. Fleeter could be seen Saturday erecting tents and has previously been out on Lake Audubon with his son as a swim safety volunteer. Sager, an FAA Inspection doctor, has been a perennial presence under the medical tent at the South Lakes High School finish line area. Sager grew up and was friends with Mrs. Landau's family in Richmond, Virginia. Dr. Sager graduated from the Massachusetts Institute of Technology ("MIT") as an Aeronautical & Astronautical Engineer and is an exceptional internal medicine specialist. Before athletes lawyer Doug Landau departed the United States to compete on the US Maccabiah Triathlon Team, he had his physical performed by Dr. Sager.
Dr. Fleeter, of Town Center Orthopedics in Reston, is the team physician for South Lakes High School and served as the medical director of the Women's World Figure Skating Championship and the Reston Triathlon. He is also an orthopaedic consultant to the United States Figure Skating Association. And, as one who not just "talks the talk," but also "walks the walk," Fleeter is a strong cyclist who has participated in the Reston Century and knows routes through Northern Virginia that only a true lifetime cyclist would know. Dr. Fleeter and his Town Center Orthopedic partners have operated on and helped a number of ABRAMS LANDAU clients who have been injured in motor vehicle crashes, sports and on the job accidents.
Doug Landau and the other participants in the Reston Triathlon are lucky to have such outstanding, board certified specialists at this local multisport race. Thank you Dr. Fleeter and Dr. Sager.