Pictures can show the danger, but not always notice
There are TWO important parts to every Virginia case where a PLACE causes a runner's, biker's or walkers injuries.
First, the injured party must show that there is a defective or dangerous condition on the property that caused the harm, AND
Second, the property owner or operator must have had notice of the danger or defect.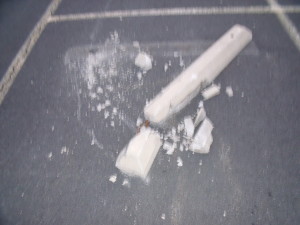 A photograph like the one shown, shows a broken and dangerous condition, but the picture does not give a lot of information about how long it has been in this condition. Prior similar incidents, complaints BEFORE the date of the biker, runner or walker's injury and physical evidence of how much time has elapsed are all helpful. If a pothole has worn down and is no longer jagged, expert may be able to testify as to how long the condition has lasted. If the danger or defect has been around a long time, then a Virginia Court will allow the personal injury case go to the jury on the issue of damages. That's why the ABRAMS LANDAU injury trial team advises clients that pictures are great, but evidence of notice must still be developed in order to succeed in court. If you or someone you know has been injured while biking, running, walking, blading or while exercising due to some danger a company's property, please e-mail or call us at ABRAMS LANDAU, Ltd. (703-796-9555) today, as there are important legal deadlines in these premises liability claims.