Bicyclist killed blocks from White House in downtown D.C. accident with Military truck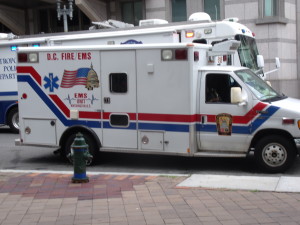 On the way home from work this evening I was saddened by the news of a biker killed just blocks from the White House. Washington, D.C. Fire and Emergency Medical personnel revealed that a female bicyclist was dead after being hit by a moving motor vehicle in downtown D.C. this afternoon.
WTOP News reported that the accident occurred around 6 PM at the intersection of 12th Street and New York Avenue in NorthWest Washington, D.C. This is an intersection within the restricted area for the Nuclear Security Summit. A D.C. National Guard spokesman says the vehicle that struck the woman was a five-ton military truck. The truck was pulling into the intersection to block it off for a motorcade and failed to see the woman aboard her bike.
Military vehicles have different site lines in comparison to civilian cars and trucks. Army vehicles designed for desert warfare or rough terrain may have "blind spots" that are different than those experienced in passenger cars and pick up trucks. Perhaps when National Guard vehicles are recruited to provide security in civilian settings with high pedestrian and bicycling volumes, it would be safer to realign and/or add mirrors and site lines in accordance with US city street and foreseeable road users.
Having represented children and adults struck by cars, trucks, dogs and taxicabs in Maryland, Virginia and the District of Columbia, our thoughts and prayers at ABRAMS LANDAU are with the cyclist's friends and family.