First Grand Master prize (and a duck !) for Landau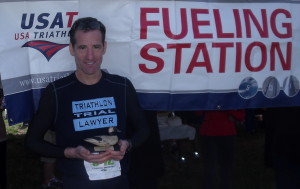 Even though he's only 49, Triathlon Trial Lawyer Doug Landau got to race in the 50-54 year old division at the 9th annual Virginia Duathlon at the historic and scenic Chippokes Plantation Park Sunday. Billed as "the best duathlon course in the state" with a great catered post race BBQ and party, Landau capped a weekend of sports volunteer work and legal education in Williamsburg with a race of his own. On Saturday, he began his morning as a course marshall for the annual VTLA Fun Run, in which his wife was a participant. In the afternoon, he was the director of the annual VTLA Tennis Tournament, which the ABRAMS LANDAU law firm has sponsored for many years. Landau then cheered the golfers competing for the "Norman Landau Cup." In between these events there were meetings with the judges, Continuing Legal Education ("CLE") programming, and legislative updates.
Early Sunday morning the Landaus left Williamsburg and took the ferry to Surry in order to compete in the Loudoun, Fairfax and Prince William County injury lawyer's first multi-sport competition of the year. The Herndon Reston area injury lawyer managed to cover the run course that took advantage of the scenic and hilly college run trail in the park at a 7 minutes per mile pace for the first 5km. After running along the James River under the tall pines and soaring osprey, he jumped on his bike for a 23 mile course through the rolling rural countryside of Surry County. Lawyer Landau then bolted off the bike, removed his bike helmet and shoes in order to run another 5km at 7:15/mile pace to finish 3rd in his age group and in the top 30 over all. Mrs. Landau served as a volunteer out on the bike course, and was thus able to enjoy the famous post-race BBQ. Landau took his prize duck to New jersey, where it was a centerpiece on his mother's dinner table. It now sits proudly on her fireplace mantle with several other ducks, mallards and puffins.