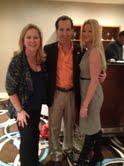 Workers Injury Law and Advocacy Group (WILG) at American Association for Justice (AAJ) Convention
and appearance at the WILG meeting.
Some of the hot topics discussed WILG's meeting included opioid abuse, long-term pain management, home delivery of medicine to disabled workers and not filing an MSA (Medicare Set Aside Account).  Also available was public relations training on message delivery which taught skills useful both in the media and in the courtroom.
"Any time my colleagues and I can get together for learning and sharing of information, it is a win-win.  A win for the attorneys who return to their offices re-energized with new knowledge and ideas, and a win for our disabled clients who ultimately are the ones to benefit," says Doug.
If you or someone you know has been injured or disabled due to a workplace incident and there are questions as to what laws apply, email or call Abrams Landau, Ltd. at once (703-796-9555).