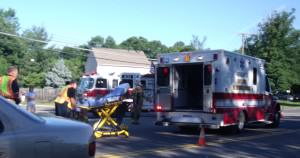 West Ox Road Rush Hour Bike Crash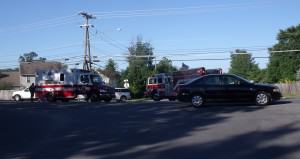 Having seen and assisted at more car, truck and bike crashes than I can recount, I was nevertheless shaken this morning by the scene outside my neighborhood.  A biker had apparently been hit by a car and badly injured at West Ox Road and Ashburton in the Herndon – Oakton Woods area of Fairfax County, in Northern Virginia.  Emergency Medical responders and Fire and Rescue teams were dispatched quickly and several motorists had already stopped to render assistance to the fallen cyclist as he lay on the pavement between the two corners of Ashburton, across from Franklin Oaks Drive.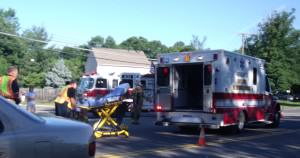 The EMTs and ambulance came to the scene of this rush hour bike crash and immediately set about to assess and then treat the injured athlete.  This car and bicycle crash occurred between Oak Farms Drive and the Fairfax County Parkway (Route 7100), about exits North of Fair Oaks Hospital.  The injured cyclist was being loaded onto a stretcher and had been placed in a neck brace to protect his neck from spinal cord damage as we were allowed to pass.  It brought home the fact that bike crashes can happen around the corner as well as far away on the trails, tours and race courses.  Our thoughts and prayers go out to the injured cyclist and his family, and we hope that he gets appropriate medical care and recovers quickly.
If you or someone you know has been injured as the result of a bike crash, car accident or sports injury, please contact us by e-mail at ABRAMS LANDAU or call (703)-796-9555.