Traffic Flagger's Heat Stroke and Heart Attack Ruled Compensable
The rules of the Virginia Workers Compensation Commission ("VWC") require injuries on-the-job to have a specific event. If the disabled worker cannot point to the particular event that caused their injury, the workers comp insurance companies are quick to deny their claims and force them to take their cases to court.
In a case recently reviewed by Loudoun and Fairfax County workers compensation lawyer Doug Landau of Abrams Landau law, the claimant's medical records indicated that his shift flagging traffic on a hot summer's day, without taking a break for water or shade, caused his heat stroke and heart attack. At the trial level, the VWC Deputy Commissioner awarded compensation benefits.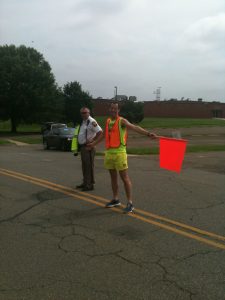 The employer and their insurance company appealed to the Full Commission. They argued that the judge misapplied the causation standard, basing the causation decision solely on the heat of the day. While the employer was correct that the claimant must prove his heat stroke and heart attack resulted form peculiar conditions related to his employment, the appellate review found that the lower level applied the correct standard. The VWC explained that the conditions of the claimant's workplace were created by his employment. The Commission found more than simply hot and humid weather on the day claimant collapsed. The VWC also found that the claimant worked in the open, in the sun, on asphalt and concrete, with no relief afforded by his employer. The claimant was not free to leave his post. He did not have access to water. The evidence supported these findings. Further, the Commission accepted the medical evidence that the claimant's work in the heat, standing on the road, without food or water, resulted in the heatstroke and heart attack. These factual findings were conclusive and binding as they were based on credible evidence.
Contrary to the employer's position, the Commission's findings encompassed more than a conclusion that the heat of the day caused the claimant's attack. The VWC found his exposure to the sun was beyond the norm. The name of this Virginia Court of Appeals case is Kjellstrom & Lee Inc. v. Saunders. The case points to the fact that all workplace injuries are NOT automatically covered by the Virginia Workers Compensation Act. It is important to timely get experienced legal counsel in these situations. If you, or someone you care about, has sustained a permanent injury on the job, we may be able to help. Call us at 703-796-9555 or e-mail us, so that you do not lose valuable legal rights and benefits.