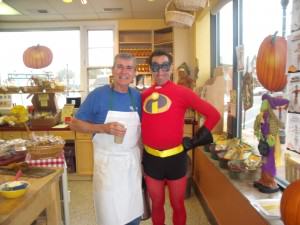 Super hero lawyer – Herndon Virginia attorney Doug Landau is truly "Mr. Incredible" today !
Is this "Super Lawyer" able to "leap tall buildings in a single bound" ? Is Landau "faster than a speeding bullet" ?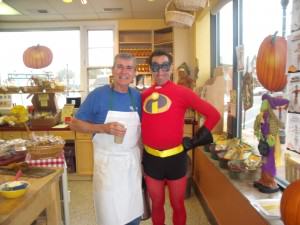 Probably not, unless the bullet was traveling 10 MPH and the building was mostly subterranean ! However Herndon Virginia trial lawyer Doug Landau did look very much the part of a "Super Hero" fighting for the American Association for Justice league Friday after marching in the annual Madeira School halloween parade. Mrs. Landau, taking the role of fashion designer and auteur "Edna Mode" made costumes for them to be "Mr. & Mrs. Incredible," which included several pillows and a down vest under the normally trim Trial Lawyer Triathlete's UnderArmor ! The staff at ABRAMS LANDAU asked Doug to wear his costume all day Friday. In addition to a "Casual Friday," the staff was also treated to chair massages by a former client from the Linden, Virginia area. Clients, their children and visitors to ABRAMS LANDAU all seemed to relish the fact that their lawyer, in addition to being named a "Super Lawyer" once again, was dressed up as a "Super hero." Here "Mr. Incredible" Landau samples some freshly baked treats with Jack Corky of the Herndon Great Harvest Bakery – watch those carbs big fella !