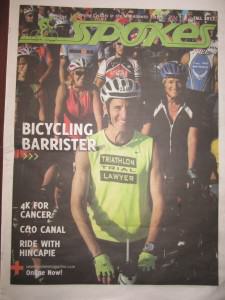 SPOKES' "Bicycling Barrister" Rides Cover with Reston Bike Club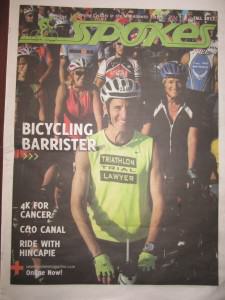 "Riding with a bevvy of beauties on bikes has its rewards !" notes Herndon Reston biker lawyer Doug Landau.  Featured on the cover of the current SPOKES magazine, Landau recognizes that there are more bicycling stories than just those that come out of the Landau Law Shop.
Reporter Brenda Ruby came out to ABRAMS LANDAU for interviews, and SPOKES Editor and Publisher Neil Sandler came out several weeks later to do follow up investigation and photos with members of the Reston Bike Club.  As Landau has actually biked, raced, tried cases and helped clients in Maryland, Delaware, Virginia, North Carolina, West Virginia, New Jersey and the District of Columbia, he was a natural for SPOKES, which serves "Cyclists in the Mid-Atlantic States."
One of Landau's pet peeves is "poseurs," not in the peloton, but in the legal field.  "There are lawyers who have to advertise for clients.  They do not ride competitively.  They do not try cases in court.  In fact, they almost never go to court.  They lack the skills, staffing and courage.  Nevertheless, these "pretenders" dupe innocent victims and then mishandle the bicycle crash, dog attack or defective bike product case, leaving the injured cyclist doubly harmed.
"In one case, a well known Leesburg law firm took a George Mason University bike crash case, and would have missed the time limit had we not taken over with just days to go.  ABRAMS LANDAU timely filed the injured biker's case in Loudoun County Circuit Court.  The Loudoun lawyer has since been disbarred.  In another case, a television advertising lawyer from Maryland was disbarred when he put in a claim for a bike crash that never happened, as he was on vacation with his wife in South America at the time !"  Neither of those lawyers went to court regularly for injured athletes.
Bottom line, before you select a lawyer for your bicycle injury case, come see the lawyer in action, see what they have actually done in SIMILAR cases, and make sure they can "walk the walk" and are not just "peloton poseurs." Just as you would not buy a new bike based upon the advertisements only, check the reviews, investigate and meet with a lawyer before hiring them to help you in your case."