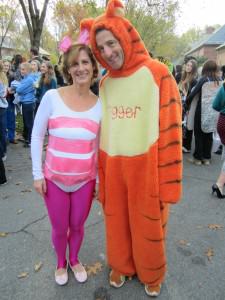 Some people want a "Tiger" for a lawyer, the lucky ones get "Tigger" !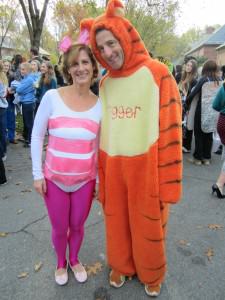 A wonderful tradition at The Madeira School is the annual Halloween Parade. As this is our last daughter's last year at this outstanding high school, we could not fail to participate. I have been: a "Madeira Soccer Cheerleader," "Mr. Incredible," a "Hydrogen Atom," and the Madeira Varsity Soccer Team (as my daughter !), I had to march one more time. My wife and I went as "Tigger" & "Piglet" from the "Winnie the Pooh" stories. The role was not a stretch for me, as other lawyers have commented that I have more energy than any other lawyer and that I "make coffee nervous !" I did not even need a pogo stick !
My staff tells prospective clients that if they want a boring lawyer who sits behind a desk and never bounces out of his chair to go to court, that I am not the one they want for their injury, disability or workers compensation claim. But if they want an office with lots of energy, courage, staff, space, creativity and experience, then they have come to the right place. The Landau Law Shop in Herndon, Virginia, is where "Tigger the Lawyer" can be found.