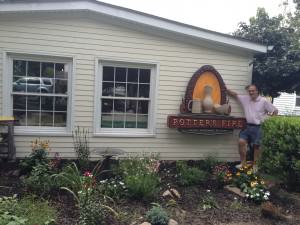 Potter's Fire Grand Opening
Sheila Olem and Dave Kirby,  Council for the Arts of Herndon Chair Signe Freidrichs, Delegate Tom Rust (R-Herndon), and many more.
A reporter from Herndon Patch also was there to take pictures and write about the event.  Click here to read the Patch article.
Neighbor Landau, who owns the building at 797 Center Street, is excited for the Faul's.  "This has been their dream — to open a pottery studio," says Doug.  "It is really a one-of-a-kind shop. They designed and threw large mugs for my son's graduation from Naval Officer's Candidate School with the US Navy Military Medical logos that he will have as a one-of-a-kind keepsake forever. Where else can customers find – and even help design – unique gifts and keepsakes?  I am thrilled for Mike and Rose and wish them much success in their new endeavor."
If you find yourself at Potter's Fire, please stop by the "Landau Law Shop" to say hello!