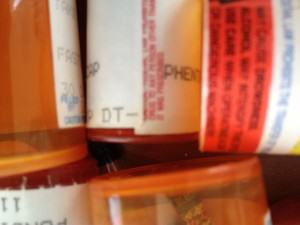 Party Safely: Alcohol + Medications = Dangerous Interactions
alcohol.
A recent article in "Military Officer" magazine discussed the effects of certain classes of medications with alcohol. Rear Admiral Joyce Johnson, USPHS-Ret., D.O., M.A., pointed out that:
 Medications that depress the Central Nervous System ("CNS") can slow reflexes when combined with alcohol.  This can lead to serious injuries from falls, slowed reflexes leading to dangerous driving, and difficulties with gait and balance.  Drugs of this type are use to treat allergies, insomnia, anxiety depression and severe pain.
 Narcotics used for pain management, when mixed with alcohol, can result in impaired judgement, unusual behavior and altered memory, as well as the CNS effects described above.
 Nonsteroidal Anti-inflammatory Drugs (NSAIDS), which are commonly used to treat pain and/or arthritis, irritate the stomach and gastrointestinal ("GI") tract.  They can result in ulcers and GI bleeding similar to chronic alcohol use. When these drugs are taken with alcohol, the effects are magnified.
If in doubt, check with your doctor.  Some medications may interact dangerously with only a small amount of alcohol. In some cases, consuming alcohol with medication can prove fatal.  The Military Officers Association of America ("MOAA") is the nation's largest and most influential association of military officers. It is an independent, nonprofit, politically nonpartisan organization. Doug Landau, of the Herndon law firm ABRAMS LANDAU, Ltd., used to pass the MOAA headquarters when the firm was located in Old Town Alexandria.  For more MOAA's wellness issue discussions click here