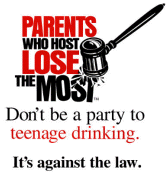 Parents who host, lose the most: Parents pay the price for their kids under aged drinking
As a parent, is allowing your son or daughter to host a party with under aged drinking worth $2,500 per person, losing your driver's license, and spending a year in jail?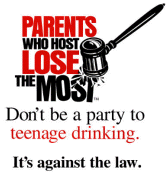 According to Herndon and Reston Virginia area injury lawyer Doug Landau, it is absolutely not worth it.  At ABRAMS LANDAU, Ltd., we have seen the devastation caused by drunk, impaired and drivers on drugs. Drinking alcohol, if you are under 21 is illegal in the United States, and can result in a $500 fine, community service, and loss of ones driver's license. But it is also a Class 1 misdemeanor for adults to provide alcohol to any person under the age of 21, other than their own child in the privacy of their own home, i.e. a parent may give his or her children alcohol in their home for a religious occasion.
The penalties for an adult providing alcohol to their children's under aged friends are more costly than the penalties for the drinkers. A $2,500 fine per young person provided with alcohol is just one penalty. This means if you allow your daughter to have 10 under aged friends over to your house to drink you will pay $25,000. That is more than a little pocket change, and should not be taken lightly.
In addition the kids you host could drive home drunk. They may promise they will spend the night and then once they have consumed some alcohol, convince themselves they are able to drive. Driving while intoxicated is also a crime, and can lead to serious injury and death especially in teenagers who are inexperienced drivers. And if the young drunk driver hits and injures someone, the parents who hosted the party and provided the alcohol to a minor could be liable.
Things parents can do to prevent the worst:
– 1. If your child is going to a party, find out where it is and call other parents to make sure it will be alcohol free
– 2. Lock up your alcohol so that your child won't have access to it.
– 3. Check bag packs and purses at the door to make sure no alcoholic beverages are entering your home in the hands of teenagers.
– 4. Refuse to buy alcohol for your child, or host a party where persons under 21 consume alcohol.
Under aged drinking is a serious offense, but adults who play the laid-back, party hosting, parents really have to pay the price.
Picture and more information can be found at www.unifiedpreventioncoalition.org