Once a Band Geek, Always a Band Geek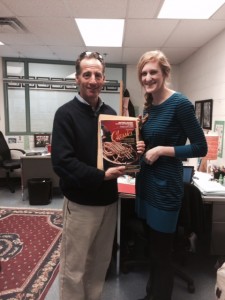 Herndon lawyer Doug Landau has been a long-time supporter of public school music programs.
That's why he was pleased to donate a copy of the complete symphonic band score of Frederick Handel's famous "Water Music" to Rachel Carson Middle School, located just down the road from the Landau Law Shop.
Landau is proud of his family's connection to the local school and to music in general.
"My eldest daughter was in the very first class at Rachel Carson, and all four of my kids have been through this fine Fairfax County Public School.  Indeed, several of the Landau's played instruments in middle school."
Landau was an award-winning junior high school musician, recorded on albums, and played through high school and at college, playing in the pep band at Boston University.  He even played his horn at the beginning of an early morning speech at an American Association for Justice Convention. It certainly woke up his audience !
"Even now, I will pick up my pocket trumpet and play for nieces, nephews and other special occasions."