Litigants who go to Court WITHOUT lawyers lose more often, according to Virginia study
In over 35 years of legal practice, Herndon accident lawyer Doug Landau can only recall one case where the insurance company did not send at least one lawyer to represent their interests and to defeat the injured victim. The vast majority of litigants going through General District Court in Virginia are not represented by attorneys, according to a study conducted on behalf of Blue Ridge Legal Services.
The study's conclusion should come as no surprise: unrepresented litigants lose the majority of General District Court cases when their opponents are represented.
"The data basically confirms what common sense tells every member of the public," John Whitfield, the director for Blue Ridge Legal Services (BRLS), said in an interview. "You need a lawyer if you have to go to court, because otherwise your chances of success are very low."
As reported in the Virginia Lawyers Weekly, the study, sought to measure the legal representation status of litigants in civil cases, using data from the Office of the Executive Secretary of the state Supreme Court. The National Center for State Courts was contracted by BRLS to conduct the study using grant money. The plaintiff won 62 percent of cases when they were represented and the defendant was not. "Our civil justice system presumes the presence of counsel … to fairly and effectively try cases," Whitfield said in his presentation to the court. "That reliance is too often seriously misplaced, creating a dysfunctional system for the many litigants who don't have access to representation."
Justice gap solutions
There are several potential solutions to fixing the problem of underrepresentation, coming in 2 categories.
The first deals with making more lawyers available to low-income people. The options in this regard are to increase funding for legal aid in the state and to increase participation in pro bono activities, both of which have been controversial in the past. The voluntary pro bono reporting measure that takes effect at the end of this year may be a good first step by creating better information about the amount of pro bono work that is actually being done, while bringing more focus to the issue.
Another option is to decrease the need for lawyers by simplifying court procedures, as the small claims division has done. Court forms need to be written in plain English so that users can understand them. Gone are the days when lawyers were paid by the word or page.  Virginia courts need to provide online tools to help fill out legal forms with plain language instructions.
What's being done
In October 2017, the Supreme Court of Virginia elected not to impose mandatory pro-bono reporting for bar members in the state, despite recommendations from the court's Access to Justice Commission. Instead, the court proposed making pro bono reporting optional, and in February, they made it official, adding Rule 22 to the state bar rules. Under the rule, the VSB will ask lawyers annually to report their pro bono work. They can report the number of hours of work they did, the amount they donated to pro bono organizations, whether or not the 2 percent pro bono suggestion applies to them or that they choose not to report. The rule takes effect Dec. 1, 2018, lawyers will have their first opportunity to record their pro bono on the July 2019 dues statement.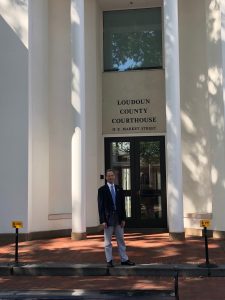 Meanwhile, the Access to Legal Services committee is currently working to enhance access to free and low-cost legal services. They published an updated version of their Free and Low Cost Legal Resources in Virginia guide in 2017 and work with partners to help make self-help resources more available. The Virginia bar provides direct pro bono services to Virginians in need through Virginia Free Legal Answers," a website which allows volunteer attorneys to offer limited scope pro bono advice to low-income individuals.  Herndon lawyer Doug Landau has participated in free online legal services for the Florida Bar (Florida Free Legal Answers), in a program started by the American Bar Association, Virginia attorneys have answered 919 of 976 questions asked on the site, a 94% attorney response rate. The Commonwealth of Virginia is consistently ranked as having the highest or second highest attorney response rate in the country. Lawyer Landau believes that every lawyer given the privilege of practicing law in Virginia should give back. Not just donations of money, but time and real effort. That is why he volunteers and teaches on the state and national Continuing Legal Education programs; goes weekly to the Rachel Carson Middle School to teach Constitutional Law & Civics; and visits Northern Virginia public elementary schools and other programs for his "Lids on Kids" free bike safety and helmet program.