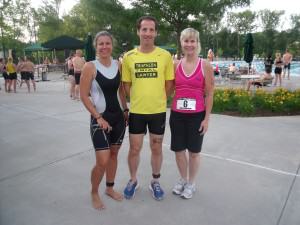 "Legal Eagles" take to Loudoun County streets to race for charity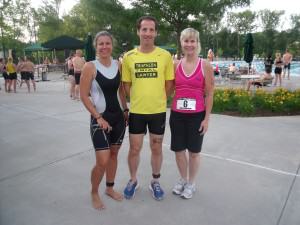 At the Broadlands Sprint Triathlon today in Loudoun County, some 270 multisport athletes took to the streets.  Leesburg, Fairfax and Prince William bike injury lawyer Doug Landau wanted to try this TriPerformance event to test his early summer fitness.  Landau also likes competing in safe events like this, where the directors and volunteers take great pains to avoid accidents, crashes and injury.  The pre-race meetings and course previews are especially appreciated by the seasoned "Triathlon Trial Lawyer."  In the transition area he discussed strategy with Alexandria General District Court Judge Moore, not for trials, but for triathlons !
The Broadlands Sprint Triathlon started with a 400 meter pool swim, followed by a slightly shorter than the advertised 12 mile bike ride, and ended with a curvy 5km.  The Loudoun, Prince William and Fairfax County bike crash injury lawyer finished in the top 10, and was the first grand master, master and age group.  Today's race raises funds for the Infinitive Foundation, which was established to support programs focused on health and enhancing family life. Proceeds from the Infinitive Race Series will support local and US Military families.