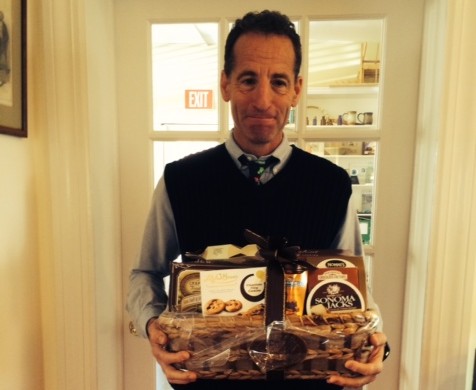 Gift Giving Season at Abrams Landau, Ltd.; Like a Good Neighbor, Local Insurance Company Sends Thanks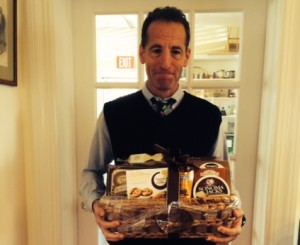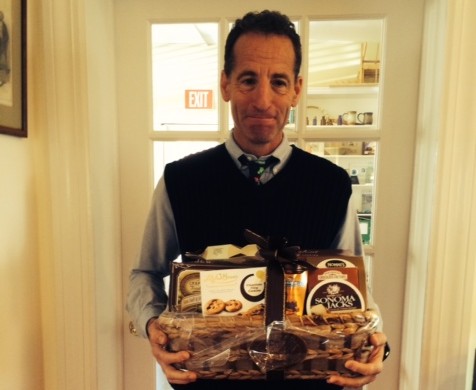 Everyone at Abrams Landau, Ltd. was surprised when a large basket of treats arrived at our doorstep.  When we read the card, we learned the gift was from a local Herndon insurance agent.  This automobile, homeowners and property insurer wanted to express his thanks for attorney Doug Landau's pro bono representation at the Herndon courthouse.
The Fairfax General District Court sits in Herndon most every Wednesday, and sends a judge, several deputies, a cashier and clerical staff in order to process the many cases heard each week. Fairfax County District Court also sits in the town of Falls Church, and Doug Landau has appeared in that venue as well.
Landau almost never appears in cases at the General District Courts, instead focusing almost exclusively on Circuit Court and Federal District Court cases, where there are jury trials and no limit as to the jurisdictional amount. So what was Landau doing at the Town Council chambers in front of a General District Court judge?
The answer is simple.
He was helping out a good neighbor by defending him in front of the General District Court, thus saving his friend on a substantial citation.
In fact, the General District Court judge assigned to be in Herndon that day noted that had Landau not worked out the matter with the Commonwealth Attorney (the Virginia prosecutor) privately, he would have imposed the full sentence under the law.
In a wonderful showing of gratitude, a large gift basket was received at the Landau Law Shop. How many personal injury law firms get gifts from their insurance company counterparts ?!!? This is not the first time that gift baskets have been sent in thanks for things done "free of charge."  Landau welcomes the opportunity to help neighbors who have been unfairly charged or harmed through no fault of their own.  Although not able to help in every single instance, in those cases where Landau has gone to court outside the context of personal injury, workers compensation, or Social Security disability, he and his clients have fared extremely well.
While the gift was much appreciated — and happily consumed within days of its arrival — Landau prefers to spend his time helping those who have been disabled or injured.  This Herndon Virginia law firm's  staff certainly has a greater comfort level in those courts in which they usually appear, as borne out by the calendar printed in the firm newsletter, online, and part and parcel with their unique "open book policy." Landau noted, "we usually prefer to be on the giving end, and try to give back every single week.  However, it is great when clients, friends and neighbors bring unexpected gifts to us in thanks for what we have done."
If you or someone you know has been injured due to no fault of your own — perhaps on the job, in a car or bus crash, or in a slip and fall accident — and there are questions as to what laws apply, email or call Abrams Landau, Ltd. at once (703-796-9555).