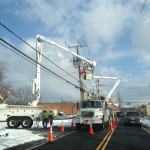 Workers injured in an on-the-job incident may wish to file a claim for workers' compensation (WC) benefits.  Employers pay for workers' compensation insurance coverage for their employees and it is these insurance carriers who are responsible for paying out any claims.  Therefore, a bit of insight into how workers' compensation insurance companies operate will be helpful as you pursue WC benefits.
Dealing with Workers' Compensation Insurance Companies
When dealing with workers' compensation insurance companies, it is safe to assume every statement made by your attorney on your behalf is greeted with an automatic "PROVE IT".  After all, the insurance company's job is to: ensure that every claim is legitimate; hold on to their premium dollars as long as possible; and, to maximize profits for their shareholders.
Documentation for WC Cases
This is why the workers' compensation team at Abrams Landau, Ltd. files with documentation when making requests for medical care, reimbursements for our clients, referrals, changes in conditions, Hearings, etc.  A judge will not docket a case for a Hearing unless and until there is evidence in the file that this action should be taken.  This is important to understand since the scheduling of a Hearing is often what compels the insurance company to act!
Therefore, when you hire our firm to handle your WC case, we ask that any time you receive a note of referral, test results, or other information related to your WC claim, you send it to us immediately.  We will turn around and file that documentation with both the insurance carrier and the Workers' Compensation Commission.
Virginia Workers' Compensation Commission (VWC) e-Filing System
In Virginia, WC claimants can check the status of their files online with VWC 24/7.  This is especially comforting for clients who have had head injuries and/or memory issues.  At Abrams Landau, we will assist you in obtaining a PIN so that you can take advantage of this convenience.
See Abrams Landau in Action
We also find that clients who have watched a real Hearing know what to expect and have less difficulty navigating the system.  We publish lawyer Doug Landau's calendar in our monthly newsletter so that you can watch him "In Action" before your own Hearing.  You may also call our office at any time for a list of upcoming dates and appointments.  703-796-9555.
If you or someone you know has been injured at work and there are questions as to what laws apply, email or call Abrams Landau, Ltd. at once (703-796-9555).