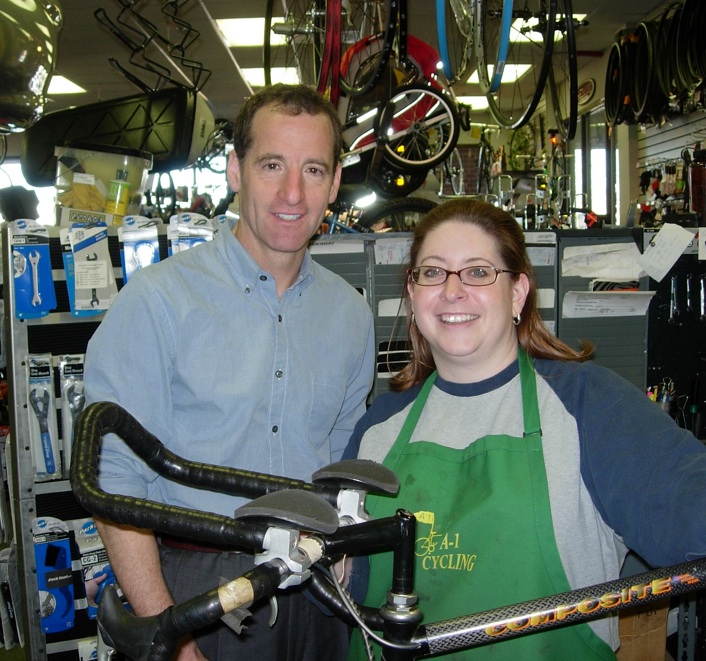 Fairfax Bike Crash Lawyer Landau gets pre-season check up – for his bike !
With the coming of warmer weather and longer days, Fairfax County bike crash lawyer Doug Landau got a pre-season check-up, for his bicycle !  Before the start of the Spring racing season, the Triathlon Trial Lawyer took his ride to Rob and Sarah Velasquez at A-1 Cycling at the Herndon Clock Tower Shopping Center on Centreville Road, just South of the Dulles Toll Road and about two miles from the Landau Law Shop.  A-1 Cycling also has a store in Manassas at 7700 Sudley Road.  Go to TheAthletesLawyer and click on the "PLACES" section for more information on these friendly, skilled and well-stocked stores.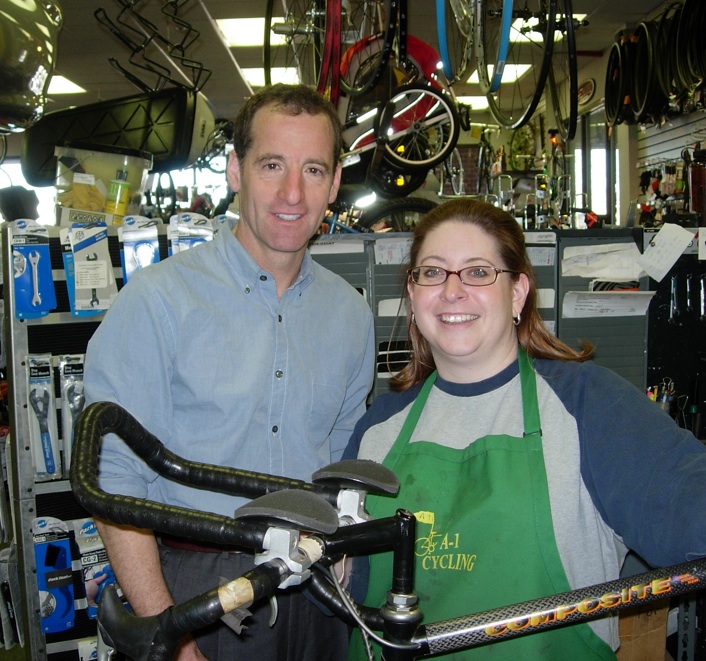 .Just as important as making sure your body is ready for intense training and racing, is ensuring that you have a safe ride.  Experienced bicycle repair shops, like experienced trial lawyers, know what to look for and usually have several strategies for each problem that arises.  One of the ways Landau has avoided head injury and disabling bike crashes is by letting the experts repair and maintain his bicycles before, during and after the racing season.  The Herndon/Reston bicycle accident lawyer is shown here with Sarah Velasquez of A-1.  The always friendly staff has given great service and the experts at A-1 Cycling have even seen the Triathlon Trial Lawyer competing in the Reston Sprint Triathlon.  If you can find a bike shop and mechanics who are experienced, talented and honest, then you will have greater peace of mind, safety and success.  These are the same qualities one should seek out when selecting a trial lawyer for a personal injury, automobile accident, dog bite, animal attack, head trauma, defective product, disability claim  or bike crash case.