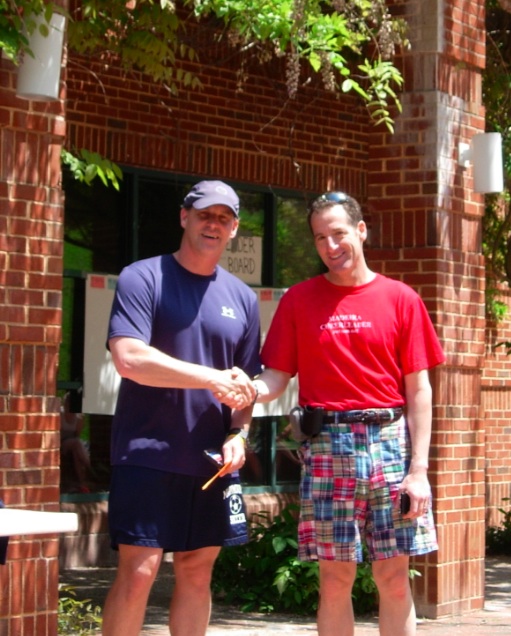 Doug Landau continues to support Childhood Brain Tumor Foundation
The Madeira School and Sea Devils Swim Team once again hosted a unique fundraising sports event for the Childhood Brain Tumor Foundation ("CBTF") on a sunny morning at the Greenway.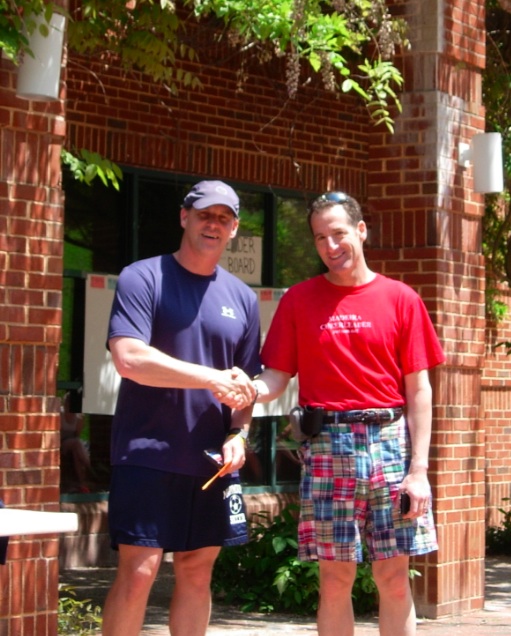 The Dan Fiduccia Spring Biathlon is one of the firrst events of the multi-sport calendar, and this year exceeded past participation.  Award-winning swim coach Rod Montrie and Gib Smith [shown giving Doug Landau his medal] have been the race directors of this Sprint Biathlon which brings young competitors and old, teams and individuals and even a Trial Lawyer who does the race more than once on the same morning (or, as was the case in '06, a race in Herndon at 6 and then at Madeira at 10, winning the former outright and winning his age group in the latter !).
Herndon-Reston area sports injury trial lawyer Doug Landau did the Spring Biathlon not just once, but twice !  This year, Landau once again competed as a Relay team member, swimming the 525 yards in the pool in 8:37 before handing off to sprinter Ken Atkinson, who then covered the 5km. course that consisted of roads, trails, grass and HILLS .  The Triathlon Trial Lawyer ran with his talented, multifaceted team mate.  Then, after "refueling" with about a 20 min. "pit stop," Landau entered the pool as a "solo" athlete.  Swimming another 525 in 8:58, the Triathlon Trial Lawyer managed to pick off a number of the fast swimmers and end up with a time of 31:40.   It was a beautiful day, a well-known course, plenty of cheering friends and family, for a great cause.