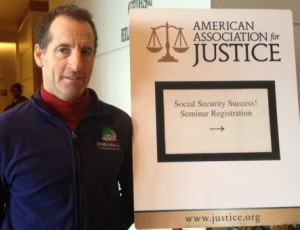 Difficult Disability Questions in "the Big Easy"
their states' mandatory legal ethics requirements. Doug Landau, of the Herndon law firm ABRAMS LANDAU was the final speaker on the program. Lawyer Landau was able to share with attendees those practices that work for his Virginia law office and help his disabled clients, their spouses, children and grandchildren in courts throughout the East Coast of the United States.
Landau noted, "gathering some of the best Social Security lawyers together in this setting allows us to learn from each other the most effective ways of helping our clients.  Even though we come from different states, this area of Federal law is nationwide.  The benefits we can get for deserving families can last a lifetime, so it is critical to be on top of the latest trends and advances."  In addition to presentations by these top disability benefit and Social Security lawyers, the program also had vocational experts, social security staff and Veterans benefits experts. Landau especially liked the presentations of Arkansas lawyer Laura McKinnon, Tennessee lawyer Eric Buchanon and Florida lawyer John Tucker.  While he learned a great deal from the other faculty, he especially wants to implement these best practices in the ABRAMS LANDAU disability team.