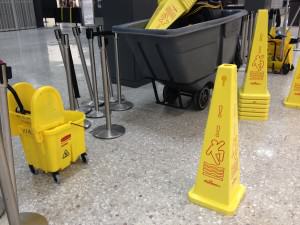 Destruction of Evidence in Slip and Fall or Trip and fall Cases
that the recording from the time of the fall no longer existed.  Instead, he turned over an image showing the general area of the fall.
Not so fast again!  The very astute plaintiff's attorney asked for a demonstration of the surveillance system, and by doing so was able to show that the image the store produced was, in fact, not of the spot monitored by cameras.
The store deliberately erased the tapes!!!
The lawyer's pursuit of justice resulted in the jury awarding $2.3 million!
"Just because the store has video does not mean you will automatically win your case," says premises liability lawyer Doug Landau.  "The help of an experienced lawyer is critical to laying out your best case."
If you or someone you know has been injured in a slip and fall accident and there are questions as to what laws apply, email or call Abrams Landau, Ltd. at once (703-796-9555).