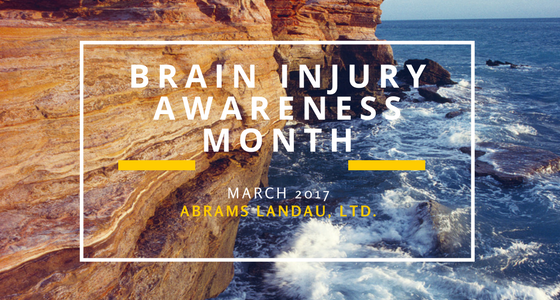 Brain Injury Awareness Month
March is Brain Injury Awareness Month and the theme for this year is Not Alone. You can help raise awareness about brain injury by spreading the word in your community.
Did you know:
Brain injury is predicted to be the third leading cause of global injury and disease by 2020. Read more about it here.
28,000 Virginians are injured each year, not including veterans
Over 167,660 Virginians living in the community are disabled as a result of a traumatic brain injury (TBI)
Over 217,958 Virginians are living in the community disabled as a result of a stroke
In 2010, 2.5 million TBIs occurred either as an isolated injury or along with other injuries
Brain Injury Services (BIS) located in Springfield, Virginia, "helps children and adults with a brain injury build the skills and confidence they need to lead a fulfilling and productive life." Abrams Landau, Ltd. law firm has worked with BIS and its Executive Director Karen Brown in the past and are joining them in making an effort to raise awareness of brain injury. Click here to see the different events BIS offers in the coming months.