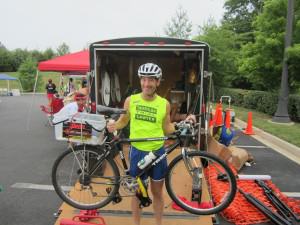 Bikers Not Necessarily the Best Washington Area Bicyclist Attorneys
thought surely he must be a member of the American Trial Lawyers Association (formerly "ATLA," now the American Association for Justice, or AAJ), as AAJ lobbies on Capitol Hill and in the state legislatures for the rights and remedies of the injured and unfairly treated in the courts. Again, not listed as a member.
So, since this lawyer holds himself on his very fancy web site as being a "trial lawyer," I looked in the archives of the Virginia Lawyers Weekly, which is the newspaper area lawyers read to keep up on up to the minute cases, laws and procedural changes in the courts. No verdicts, settlements, cases or any mention of this lawyer could be found. Yet foolish cyclists fail to check a lawyer's "street cred" and see them "in action" in court. If a lawyer does not "walk the walk" and support the national and state injured victims' legal groups and ha no reported cases or settlements, then the injured bicyclist is picking based upon form over substance. At a minimum, I would not recommend retaining any lawyer who does not belong to his or her state trial lawyers association and the American Association for Justice for any injury or accident case. If they are not on their state or local bar association's "Lawyer Referral Service," which requires they have insurance and no Ethics complaints, that should raise "red flags." And, unless they are fresh out of law school, if they have no reported decisions, do not give you the opportunity to see them in court trying cases ("in action") and cannot show you actual results, do not walk out of their office. RUN FOREST, RUN ! You don't want just a good cyclist who is also has a law license. You want a good trial lawyer who actually tries cases in court who is also a cyclist to be your lawyer in a bike crash injury case.