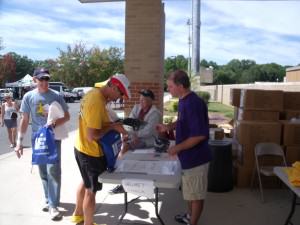 Bike Helmet Safety Rule – Landau Refuses to Override Inspectors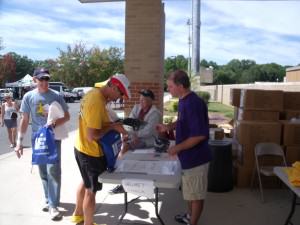 Bicyclists participating in the Reston Triathlon must have their helmets inspected for cracks, breaks, missing straps and other unsafe conditions.  Once the biker's helmet passes inspection, the triathlete can compete in this popular annual endurance sporting event.  All of the participants have been registered for months.
However, one bicyclist whose helmet failed inspection, approached registration volunteer Doug Landau and asked him to get a sticker from the inspectors so that he could ride with a cracked helmet !  Sports injury and bike crash lawyer Landau explained that he had several broken helmets already at the Landau Law Shop, and that the other volunteers were right to reject the unsafe head protection.  Proper fitting bike helmets can prevent or reduce brain injury, head trauma and TBI.  The registrant still protested, and so Landau promised to bring a USAT approved helmet to the race for him to wear at the Triathlon the next day.  ABRAMS LANDAU attorney Doug Landau often brings extra swim goggles, bicycle wheels and helmets to Triathlons and Duathlons, as he has also been in situations where he has needed to borrow necessary sports equipment and bike components from other racers.