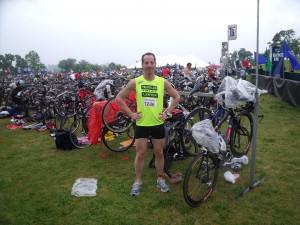 Be Prepared ! Despite flat tire, Landau runs his bike in National Championship race – barefoot !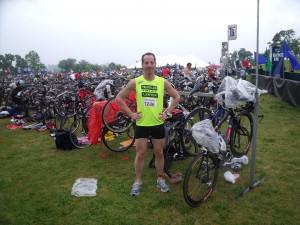 The National Duathlon Festival was held this weekend in Richmond.  The United States Age Group Championship would not only determine who are the best Duathletes in the country, but who would make the World Championship team representing the USA in Scotland in this popular "RUN BIKE RUN" format event.  Herndon, Reston and Oakton area trial lawyer Doug Landau has competed in these championships several times, and this year he came well-rested, trained and ready for almost anything.  Landau even brought a second set of wheels and a spare bike helmet, in case anyone forgot theirs or had a product failure right before the race.
In order to be as ready as possible, the Virginia sports injury lawyer even rode the run course on Friday in order to familiarize himself with the venue.  He then ran some of the course, marking it with chalk, the next day.  However, even the most thorough preparations cannot eliminate an unlucky event.  While the weather reports predicted thunderstorms, and it rained so heavily Saturday night that the Triathlon Trial Lawyer saw several bikers skid and crash on the wet pavement, he saw many more walking their bicycles back to the transition area because they had gotten flat tires on the bridge expansion joints.  Because of the cooler weather, the Richmond bridge joints had opened up and presented a tripping hazard for race volunteers who were walking on the bridge and an obstacle for biker racers going 25 mph.
The race consisted of a 5k (3.1 mile) run, followed by a 38k (23.6 mile) bike ride, and then another 5k run.  Landau was 75% through the bike course when he hit an bridge expansion joint and flatted out.  However, rather than walking home or quitting the race, the ABRAMS LANDAU litigator left his bike shoes on his bicycle, and ran the bike back across the bridge to the transition area, a distance of about 3 miles ! And he did this barefoot ! Apparently a "DNF" (Did Not Finish) was not an option for Landau, who has finished every one of the nearly 1,000 races he has started !
Once he got back in the transition area, he put on his racing shoes and ran a 21 minute 5k and finished in just under 2 hours.  How did he manage to run on the highway and bridge without shoes ? Landau strengthens and toughens his feet and ankles so as to avoid injury by training barefoot whenever he can on sand, grass and artificial turf.  The former USAT Triathlon All American won last year's "Playa Del Rey Beach Sprint" race barefoot.  Noted Landau, "just as with our personal injury jury trials, Social Security hearings and workers comp disability cases, I want to be ready for anything !"