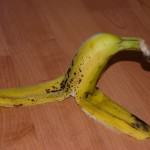 Banana Peel Incident Caught on Video in Slip and Fall at DC Metro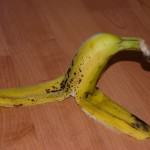 This past summer, a man using an elevator at a DC Metro station says he slipped on a banana peel as he was exiting the elevator.  Claiming to have injured his hip and leg, the man sued the transit agency for $15,000 — in part to cover over $4,000 in chiropractor bills.
As is common in slip and fall cases, Metro naturally turned to surveillance video of the elevator from the time of the accident.  What they saw on the video was quite enlightening.  It shows the man getting into an empty elevator, pacing around a bit, glancing up into the camera several times and then pacing some more.  As the elevator doors open, the man is seen flipping something onto the floor behind him before dramatically falling to the ground.
Later, the tossed item was identified as the banana peel on which the man claimed to have slipped!
Not surprisingly, the case was thrown out and the man was charged with second-degree fraud — a felony.
This case demonstrates the important role of video surveillance as evidence in slip and fall cases.
Of course, video can be used by both sides in an injury case.  In an earlier post, we wrote about another banana peel incident in which a store owner tried to destroy surveillance tapes in order to prevent an injured shopper from winning a verdict against the store.  With the help of an experienced attorney, the cover-up was discovered and the shopper won her case.
"Good for DC Metro for using video surveillance equipment on its premises.  Having this guy on tape as he throws a banana peel behind him saved the transit agency — and in the long run, fare-paying transit users and taxpayers — possibly thousands of dollars on a fraudulent claim," says Virginia slip and fall injury lawyer Doug Landau.  "There must be something about banana peels…"
If you or someone you know has been injured in a legitimate slip and fall case, with objective physical injuries that are being treated by a medical doctor, and there are questions as to what laws apply, email or call Abrams Landau, Ltd. at once, before important surveillance video or other evidence is lost or destroyed.