ABRAMS LANDAU attends American Association for Justice Convention to continue improving skills, network & teach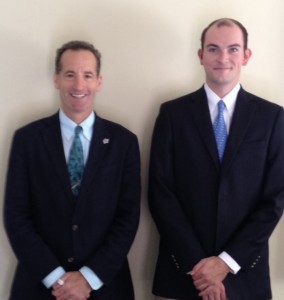 The American Association for Justice ("AAJ") annual convention draws the best lawyers from all over the United States, Canada, the United Kingdom, Australia, and other countries.  Several folks from the Herndon law firm ABRAMS LANDAU were in attendance.
Summer law clerk Rob Adams, a student at Tulane Law School, covered presentations while Doug Landau was speaking on the Disability  program.  Because lawyer Landau cannot be in several places at the same time, he felt it was important for the firm to maximize accumulation of new techniques, the latest cases and the latest in legal technology.
Very few plaintiff's  lawyers in America spend the time, money and effort to go the national, or even state, Trial Lawyer Association ("TLA") conventions At Abrams Landau, both lawyer and staff attend, actively participate and even teach at these meetings.  Supporting the State TLAs and the National trial lawyers association helps give voice to those who help victims every single day.  The large corporations have their lobbyists for their special interests.  But no one expects to be a victim of a dangerous product, an unsafe driver or a building built in violation of code.  People who are disabled, in pain, grieving the loss of family members, unable to work or caring for injured loved ones need advocates.  And their advocates need to join forces in order to have an effective voice.  The large insurance companies, pharmaceutical industry and international corporations may have legions of lobbyists and billions of dollars, but the victims of their unsafe decisions have "boots on the ground" and the lawyers who support their state Trial Lawyer Associations and the American Association for Justice.
The TLAs and AAJ have educational programming, lobbying efforts and the resources to help individual trial lawyers help each other and their clients share information and avoid having to "reinvent the wheel."  The ABRAMS LANDAU team makes use of the TLA and AAJ listServs and contributes to them, their peer reviewed law journals, their Continuing Legal Education ("CLE") programs. Doug Landau is an active member of the Virginia Trial Lawyers Association ("VTLA"), the Trial Lawyers Association of Washington DC ("TLA-DC") and the national trial lawyer organization, the American Association for Justice, to which he has been a member since 1981.