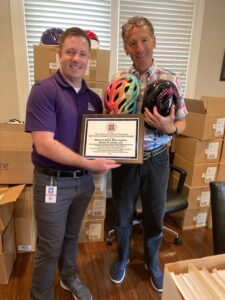 BICYCLE HELMET DISTRIBUTION EVENT AT ABRAMS LANDAU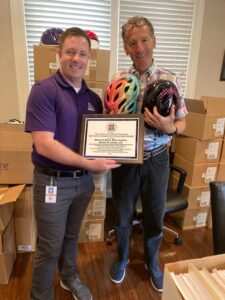 When not flying to visit clients, trying cases in & out of state courts, spending time with family, or training for National and International competitions as a member of TeamUSA, Doug Landau can be found on his bike However, as important as cycling is for his health and recreation, Lawyer Landau spends a great deal of time, effort and money protecting school children from traumatic brain injury. His "Lids on Kids" program has taken him and ABRAMS LANDAU team members to schools all over Fairfax County and Loudoun County, Virginia.
Distributing bicycle helmets, safety booklets and bicycles in order to prevent traumatic brain injury during COVID has been a challenge. However, the law firm of ABRAMS LANDAU, Ltd. in Herndon, and Maverick Bicycles in Leesburg, managed to visit EVERY single Title I school in Loudoun County.  A dinner was held honoring them hosted by the Loudoun School-Business Partnership. Since Doug Landau was out of state competing in the US Triathlon World Championship Qualifying events in Texas that week, he was unable to attend. However, Grant Schafer delivered a plaque to the Landau Law Shop to show the Schools' and Loudoun County's gratitude.
Here at ABRAMS LANDAU, our "Lids for Kids" program partners with local police, boy scout and girl scout troops, and public schools. We educate children as to bicycle safety, and give out brand new bike helmets, bags, t-shirts, bike safety coloring books (in English AND Spanish). The bicycles distributed free of charge, are refurbished by Maverick, and often have disc brakes, gears, and are sized to each child. In addition, groceries, safety lights, food certificates, and other items of need. The staff at ABRAMS LANDAU attended distribution events and were able to teach the elementary students how to shift gears, signal, use handbrakes, and other bike safety elements.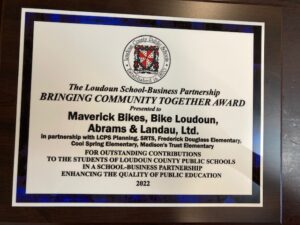 While Doug Landau liked speaking to, and interacting with, the large groups of fifth and sixth graders that would attend at Herndon area and Loudoun County Public Schools prior to COVID, he believes the small events in 2021 and 2022 were much better than the "drive through" one-and-done's that became the new normal during the height of the pandemic. Groups of 12-24 students came with parents and adult caregivers for an interactive bike safety discussion to the Loudoun County Public School events at Fredrick Douglass Elementary, Cool Springs Elementary, and Madison's Trust Elementary.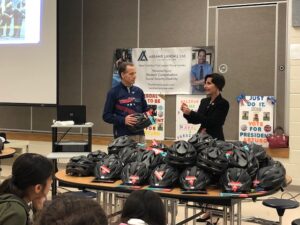 Currently, ABRAMS LANDAU has a number of helmets in the conference room for the next school year,  in order to protect children from unnecessary skull fracture and brain injury. The helmets given out are from the Bell Company, and are guaranteed until each student turns 18. If a student is in an accident and cracks the helmet, or there is some issue with the helmet, it is replaced by Lawyer Landau from the Law Shop's stockpile, no questions asked.