Drone Injury and Safety Policy Leads To Registration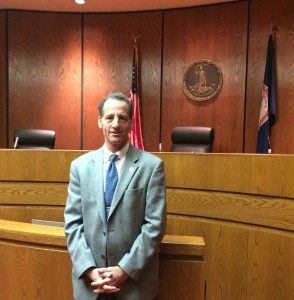 The Association for Justice ("AAJ") morning litigation program tends to feature "cutting edge" and merging areas of the law.
When Doug Landau submitted his paper on the law of drones, there was little case law or regulation, despite reports of near misses with helicopters and airplanes at major international airports.
Given the Virginia Motorsports Park drone crash and other injury producing incidents caused by these unmanned, remote-controlled flying machines, Landau noted, "It will be only a matter of time before serious, permanent or fatal injury results from the unsafe, unregulated use of such potentially dangerous technology."
Landau regularly assists injured airport workers and travelers with their accident and workers compensation claims. He adds, "there are drones flying about or near the major airports, with no oversight or coordination. This makes no sense when folks with remote controlled toy cars and planes must get a license. You do not want a toy or a drone using the same frequencies or flight path as a commercial jet or private plane. Especially as drones become larger and less expensive, the day will come when an errant drone takes down an aircraft."
As is true for most peer-reviewed publications, Continuing Legal Education programs, and speeches, Lawyer Landau's drone aircraft presentation was completed in the Fall of 2015, well in advance of the July, 2016 Annual Convention in Los Angeles, California.
Landau was pleased to see that the Federal Aviation Administration ("FAA") has taken a measured to approach in instituting safety policies for this new technology. These pilotless aircraft have become become smaller, cheaper and more popular. While these flying machines have numerous beneficial applications — mapping remote, inaccessible areas; inspecting cellphone towers; providing mobile traffic monitors; assisting with animal population studies; law enforcement investigation; shooting movies or compiling multidimensional real estate portfolios — they are also a threat to other aircraft.
Policy makers have had to address the potential safety problems. Not unsurprisingly, the Federal Aviation Administration has taken the lead in regulating drones. Last month, it started requiring users to register their unmanned aircraft. It has also proposed rules that would limit drone flights to daylight hours and require commercial users of small drones to keep their aircraft within their sight.
The FAA's press release quotes U.S. Transportation Secretary Anthony Foxx as stating, "Make no mistake: unmanned aircraft enthusiast are aviators, and with that title comes a great deal of responsibility. Registration gives us an opportunity to work with these users to operate their unmanned aircraft safely. I'm excited to welcome these new aviators into the culture of safety and responsibility that defines American innovation." Registration is still free until January 20th, and drone owners may register through a web-based system at www.faa.gov/uas/registration.
The FAA has also proposed rules to limit flights to daylight hours, keeping the aircraft within sight of the operators, and other safety protocols. Landau applauds the Administration's steps to make the sky safer, and he hopes the rules for commercial and recreational drone use are enforced for the protection of the public and airline personnel.
In the next post, the issue of privacy is also being evaluated by the Federal Government in light of differing rules by the states and Constitutional questions.