Herndon Virginia Students Best in the Country in Constitutional Law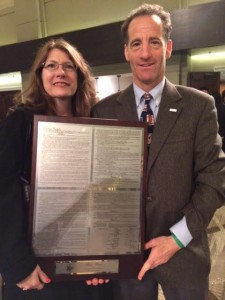 Which Dulles Airport area middle school sent a team of 8th graders to compete in the 2015 We the People competition on Constitutional Law?
Rachel Carson Middle School in Herndon Virginia!
Asked once again to coach the team of young scholars, airport lawyer Doug Landau spent the past several months working with the kids on their knowledge of the judicial system as well as the skills necessary to present clear and articulate answers to questions posed throughout the competition.
The 2014 team from Rachel Carson placed third in the nation, a tough act to follow in 2015.
But this year's team was up to the challenge!  After winning the state championship in January, it was back to the books for the rest of the winter. The kids placed among the top three teams in the National competition held at George Mason University on April 19, 2015.
Then it was on to the National Invitationals the next morning in Fairfax, Virginia.
The team from Herndon took home the top prize, claiming the spot as the best in the country when it comes to Constitutional Law!