Can I Sue an Airline Passenger for Packing Too Much Stuff in his Suitcase and Injuring My Back?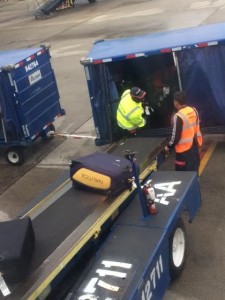 If you are an airline employee responsible for moving passengers' heavy luggage, then you know sometimes you just want to hold someone responsible for packing such heavy bags!
"Airline employees who must weigh, transport, and load the passengers' luggage are at high risk for back and spine injuries," notes airport injury lawyer Doug Landau. "We see low back injury and lumbar spine disability cases all the time at the Abrams Landau law firm.  And with the major airlines charging for each piece of baggage in order to recoup money anywhere they can, travelers are packing more and more items in their carry-on luggage, as well as in their checked bags.  The density of some bags is simply mind-boggling."
Evidence tends to suggest airline personnel charged with putting luggage onto the airplanes are at great risk, first because of the requirement that they work quickly to keep the planes on schedule, and second because of the varying sizes, shapes, and densities of bags used by international and domestic travelers.
Airport injury lawyer Doug Landau notes that where an airline employee sustained a sudden injury in the course and scope of employment due to lifting a heavy bag or being hit by a falling piece of luggage, it would likely be a compensable workers' compensation claim. In Virginia, repetitive lifting and cumulative trauma leading to disability is not generally considered compensable, and there would be no workers' compensation claim even for a completely disabled airline employee.
Not surprisingly then, injured airport and airline workers frequently ask lawyer Landau, "Who can I sue?"
There may not be anybody who can be sued in a case that can be won.
Unless a piece of luggage was tossed by employees of another airline, the airport authority, or other contractor on the premises, it is unlikely there would be any reimbursement to the injured baggage loader, despite disability from work, medical bills, and perhaps permanent injury. Virginia law, like that of many other states, does not permit an injured employee to sue a co-worker for an accidental injury in the course and scope of their job.
For example, if a fuel truck operator, legally on the Airport Operations Area (AOA), hit the luggage tug, knocking bags onto a baggage loader, that victim could bring a viable workers' compensation claim for the sudden, acute injury, and yet also have a "3rd party lawsuit" against the negligent fuel truck operator.
Because the regulations of the airport operations area (AOA) are complex, and the rules with regard to a lawsuit and any workers' comp claim arising out of same accident can be complicated, if you or someone you know has been injured at an airport, and there are questions about what kind of case to bring, whether a third-party lawsuit for negligence, an on-the-job workplace compensation claim, or even a Social Security disability claim can be brought, please contact us at Abrams Landau, Ltd. by email or phone (703-796-9555).