CompuTrainer Blue Flywheel Recall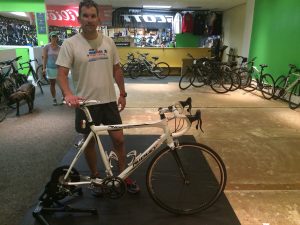 Competitive cyclists are always looking for ways to improve their strength and gain speed.  No one knows this better than athletes' lawyer Doug Landau, who has used CompuTrainers extensively for this purpose.
However, he cautions riders to carefully check equipment and also be on the lookout for any recalls or known defects.
Recently CompuTrainer manufacturer RacerMate issued a recall on the CompuTrainer Blue Flywheels due to a risk of injury.
According to the recall, "The blue flywheel can shatter while in use and throw metal pieces into the air. This poses a risk of injury from impact to the rider and any bystanders."
The recall applies only to blue flywheels manufactured prior to 2008.  Flywheels manufactured after 2008 are silver, and are not impacted.
If you have an affected trainer you should stop using it immediately and contact RacerMate:
by phone: 800-522-3610

between 9 a.m. and 4 p.m. PT Monday through Friday

online at www.racermateinc.com and click on Support to access the Blue Flywheel Recall form.
by email at sales@racermate.inc
If you or someone you know or care for were injured while using a defective sports training product, and there are questions as to what laws apply, email or call Abrams Landau, Ltd. at once (703-796-9555).