ALS Research Run Raises Money for Dulles South Youth Sports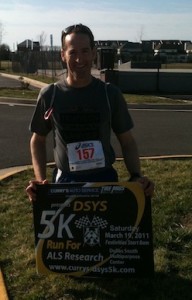 Sunny skies greeted racers in this first annual 5K fundraiser for the ALS foundation at South Riding, Virginia. With chip timing by Potomac River Running and both a kids Fun Run and a 5km road race, this event is sure to grow from the 300 participants this weekend. Curry's Auto Service presented the Dulles South Youth Sports ("DSYS") 5K Race for ALS Research. DSYS has partnered with The University of Pittsburgh Center for ALS Research working together to strengthen muscles. Dulles South Youth Sports Inc, a local non-profit organization, is aimed at developing the character of tomorrow's leaders by promoting physical activity, sportsmanship, teamwork, leadership and respect for others. The DSYS portion (50%) of the funds raised by the DSYS 5K will be used for the DSYS Field Fund. Interest earned by this fund will be used to provide scholarships to children in the community that need financial help paying the registration fees.
The winners of this race received enormous trophies as well as cash, gift certificates and hand-made awards. Doug Landau of the Herndon Law firm ABRAMS LANDAU, Ltd., finished 7th overall, and was for the third race in a row, the first finisher over 50, in just over 19 minutes ! The Triathlon Trial Lawyer next races on foot and in Computrainer cycling competition in Bethesda, Maryland at the Multisport World Conference and Expo.