Cross Fit trained runners show their stuff in Coral Gables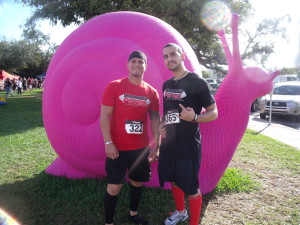 At the "Tribute to the Military" 5km running race in Coral Gables, Florida, Cross Fit trained athletes showed their stuff on a scenic course that took runners from the City Hall and around the golf course before returning to the center of the city. The Florida weather, as expected, was hot, and the dancers who warmed up the racers made things even hotter. Nearly a thousand runners raced through the streets of the Miami suburb February 6th, 2011, and the level of competition was high.
Cross Fit involves weight and aerobic training, with an emphasis on measurable work done and free weights instead of machines, so that coordination and shearing forces are also tested during group workouts. For more information about Hammer Down Cross Fit in the Herndon, Centerville and Chantilly area, contact Coach Todd Katz. This community of individuals seeking elite fitness through CrossFit training works out at the local Hammer Down CrossFit facility located at 14088-G Sullyfield Circle, Chantilly, 20151.