Remembering Jack Corkey; Great Harvest's Great Heart
Laurie Corkey sent me the following information, following up yesterday's sad post: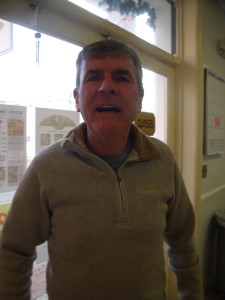 "My dearest, beloved Jack died suddenly on Sunday. I found him when I came home from church. He had his running suit on, ipod in his ear, and someone has confirmed that they saw him running that morning. If it was a normal Sunday, he would have run 5 to 7 miles. It appeared that death was immediate, which is a great relief to me, as I'm sure it is to all of us. This is the way Jack would have wanted to go if he could have chosen his death – but in 20 years – not now. Exact cause is not known, but I will know in a couple of days and will let you know.
I am in utter shock and disbelief. He had just turned 66. Words cannot adequately express how grateful I am for all the love and support everyone has given me over the last couple of days through your postings, emails, calls, and visits. I am the luckiest person to have been married to someone who was so fiercely loyal and supportive of me in my various torments and insecurities. He was my rock. He could be my little curmudgeon too, but his heart was pure gold – full of generosity, enthusiasm for life, passion for his bakery, being "the Bread Man", his kayak, his running, the Sunday NYT crossword (in pen!), being anywhere amidst friends or family. He was down-to-earth, exactly himself, ready with a laugh, a joke, and a beautiful smile. Bless you, my darling. Rest in peace. You are missed beyond words."
Remembering Jack:
Services at: St. Anne's Episcopal Church
1700 Wainwright Drive, Reston, VA 20190 (703-437-6530)
7 pm Friday, Jan 21: Remembrance Service (personal remembrances)
3 pm Saturday, Jan 22: Memorial Service
In lieu of flowers, we could honor Jack best by lifting up the world to a better place via donations to any of the following (or your own favorite charity):
Great Harvest One Day One Dollar Campaign (make checks payable to "Leukemia and Lymphoma Society", with note as memorial for Jack) Send to: Great Harvest Franchising Inc., Attn: Mike Basile, 28 South Montana St., Dillon, MT 59725
St. Anne's Episcopal Church (designate either "Memorial Garden" or "Organ Fund")
Central Asia Institute (3 Cups of Tea book)