Cyclists: Get off the Road and Have Some Fall Fun !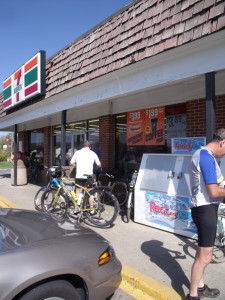 Riding with the Potomac Peddlers Touring Club (PPTC) from Lucketts brought cyclist attorney Doug Landau to "the scene of the crime" and onto smooth dirt roads in Loudoun County. The "crime scene" was the infamous "Squircle" at the Lovettesville Virginia 7-11, where cyclists on the MS Charity ride where arrested for not coming to a full, 2 feet down on the pavement, stop.
The smooth roads were easy with our mountain bikes, devoid of vehicular traffic and lovely with the fall foliage. The advantages of riding with PPTC are the knowledgeable ride leaders, comraderie and the helpful ride maps and directions. Check out upcoming rides and enjoy some of the "backroads" that Virginia and Maryland have to offer. To see how fast, how hard and how long the different levels of PPTC groups go, click here.