One crazy race – The Bantam Lake Triathlon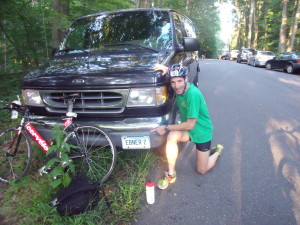 Ever one to mix business, family, pleasure and sports, Doug Landau managed to squeezes in an evening triathlon en route from New Jersey to see family in Connecticut ! The Sandy Beach Triathlon, put on by the Litchfield Parks and Recreation Department has several unusual aspects. First, it starts after supper, as it is light late on this summer's eve.
Secondly, it has weird age groups (45-54 ?!!?). Thirdly, it has separate kids' races, with shorter distances, and allows wetsuits, even if the water is warm. Fourth, there was chop on the lake because of the wind, so I wish I had worn my wetsuit. Next, there are You Tube movies of the races. And lastly, while billed as a beginners oriented event, there were some real "horses" there, which made for very fat times on the hilly course. No excuses, I finished well back in the field, but had a great workout after visiting with my Aunt in New Jersey, my nephew at Camp Awosting on Bantam Lake, and then had a wonderful supper with my folks in Connecticut. Just your typical whirlwind adventure for the traveling Triathlon Trial Lawyer !