USAT gives out smart, safety conscious SWAG to athletes competing at National Championships and World Qualifiers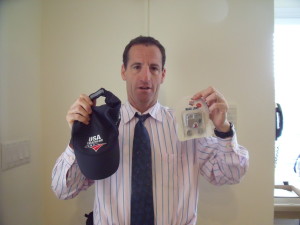 Finally, the USAT gives out some useful, safety conscious SWAG to competitors in the United States National Age Group Duathlon Championship. SWAG ("Stuff We All Get") has reached "critical mass" in the Landau household. Loudoun, Fairfax and Prince Wiliam County Virginia sports injury lawyer Doug Landau is not allowed to bring home another t-shirt unless he throws three others away ! There is simply no more room in his drawers, closet or basement !
As he races and volunteers to support charities all over the country, he has accumulated over 1,000 shirts alone ! How many t-shirts, water bottles and nylon drawstring bags can one person have ? Landau has donated shirts, water bottles, pins, bags, prizes, and other items to local public and private schools, shelters, the Herndon Free Clinic, clergy in Florida, Connecticut and Virginia, Comite de Hispano in Arlington, the Chantilly Youth Association and other non-profit groups over the decades he has been racing and helping injured and disabled adults and children.
In a brilliant move, the United States Triathlon Association gave bike racers, runners and duathletes from all over the country lights to wear while running or biking, as well as specially made hats with safety reflective fabric for increased visibility as well as to protect from sunburn. Landau applauds the USAT's efforts in promoting safety for the athletes and hopes that other races will follow suit. Mrs. Landau hopes other race directors will also follow the national governing body's lead so that her husband does not bring home any more t-shirts !