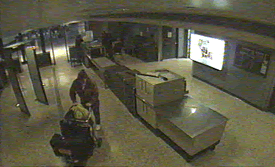 Sexual assault by an airport security supervisor
We achieved a settlement after five years of litigation in a case involving the criminal, sexual assault of a passenger by the airport security supervisor.
The injuries included emotional distress, fear of airports and security personnel, and aggravation of preexisting emotional distress. The case was filed in the Loudoun County Circuit Court. There were no lost wages, as the plaintiff was already out of work, taking medications, receiving psychological treatment, unemployed, and on Social Security Disability.
Facts of the case:
On the date of this incident, the defendant was a uniformed employee of Argenbright Security, Inc. (ASI). His jacket was a different color than the security personnel under him, as he was a supervisor that night. The plaintiff had missed her evening flight, and the next one out was in the early morning the next day. The defendant led the plaintiff back through the security checkpoint (as depicted in the airport security disc) and told the
other security officers to allow her to pass with her large luggage. The ASI security officer indicated that this was all right because the man in the red jacket was the supervisor. The defendant led the plaintiff towards the ASI security office at Dulles Airport. He indicated that she would be fine to rest in the area adjacent to the ASI security office. There were other airport security personnel sitting across from this area.
The plaintiff set her luggage cart in this area (which pretrial discovery revealed was used to check those with pacemakers, pregnant travelers, etc.) and then lay down to rest. Thereafter, she was awakened by the defendant, who was rubbing his body against her and touching her in an inappropriate manner. The plaintiff told him to get off of her, and grabbed her purse, wallet, and carry bag. The security people located directly across from where she had been resting appeared to be watching her and her assailant in some sort of ritual. They did not come to her aid and did nothing to help her. She found refuge, and an airport detective easily identified the attacker, who was charged, pled guilty, and was convicted of sexual assault and battery in the Loudoun County General District Court. ASI no longer provides security services at Dulles International Airport. The area where the assault took place has been removed, and the defendant supervisor was fired after this attack.