"Personal Black Box" Presentation a hit at National Trial Lawyers Convention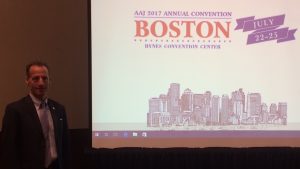 Lawyers, paralegals and other professionals from all over the United States (and the world!) got up early to hear Doug Landau's presentation "Proving Your Unwitnessed Case with Invisible Electronic Witnesses" at the Hynes Convention Center in Boston, Massachusetts. "You CAN prove your UNwitnessed bike crash case using Garmin, FitBit, Apple Watch and other 'personal GPS' data !" Landau told the audience this morning. Fitness data evidence is used by the best lawyers in America to prove how unsafe drivers cause injuries to innocent bikers, walkers, joggers and others. This evidence can be used to prove car crash cases, bike on bike incidents, dog attacks and even premises and product liability cases.
Lawyer Landau was a speaker on the Continuing Legal Education ("CLE") program at the American Association for Justice annual convention. The national trial lawyers meeting is being held in Boston for lawyers to share the latest, cutting edge information, skills and strategies. Landau, of the Herndon Virginia law firm ABRAMS LANDAU, Ltd., gave an audio visual presentation with actual evidence from real cases, and demonstrated to lawyers young and old, how to use this information to help those who have been harmed through no fault of their own. As he actually uses personal GPS data in his training and racing, Landau is able to "walk the walk," and not just "talk the talk." His groundbreaking work on behalf of injured athletes, recreational riders and innocent pedestrians was featured on the front page of Virginia Lawyers Weekly in April.
Landau was also a Webinar presenter this month on proving damages, as well as liability, utilizing fitness tracking devices.  In the webinar format, lawyers from around the country could listen and watch Landau's presentation from their own offices, for mandatory Continuing Legal Education credit, and learn the best practices in this cutting edge area of personal injury law. "The use of this kind of evidence will grow with the increase in the use of this technology. What was once something found only in the comic pages of a newspaper, with Dick Tracey's watch, is now becoming accepted in the courts," notes Landau.
If you or someone you know has been injured, and they were wearing a Garmin, Fitbit, Apple watch or other tracking device, and there are questions as to the laws that may apply to help them, please e-mail or call us (703-796-9555) at once, as there are strict legal time limits to these kinds of injury cases.