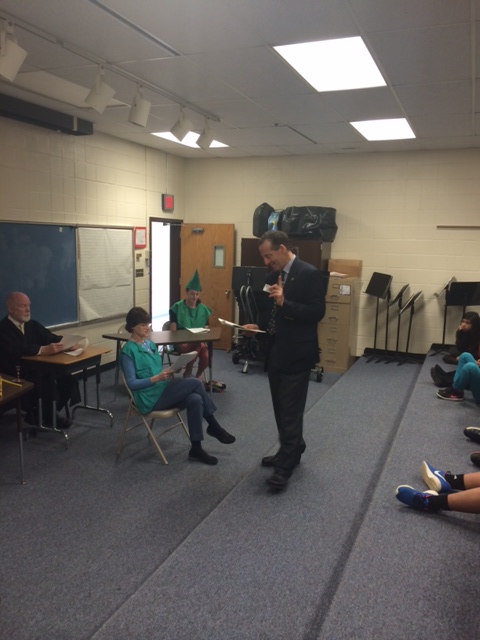 Landau Tries the Case of Robin Hood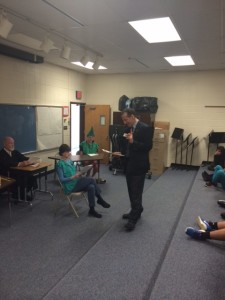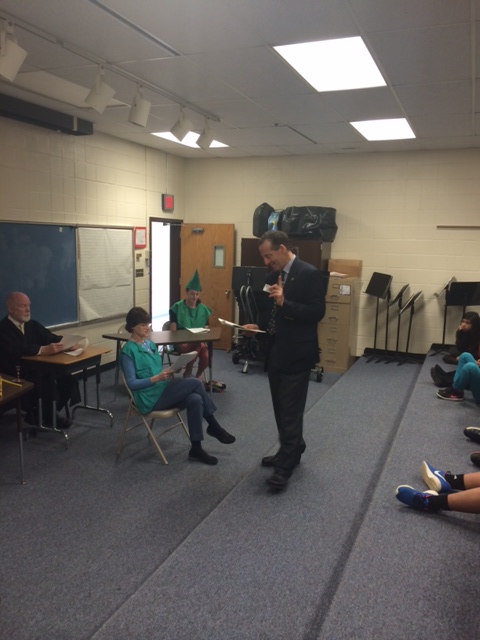 Herndon, Virginia Trial Lawyer Doug Landau was recently scheduled for a teaching gig at Clearview Elementary School in Herndon, minutes from the Landau Law Office. However, because he had a trial starting shortly in Manassas, it was decided at the last minute to do "the trial of Robin Hood."
The Fairfax Bar Association asked Mr. Landau to take on the teaching assignment at Clearview as part of the Bar's community outreach and legal educational program. The Fairfax Law Foundation educates students throughout Fairfax County on constitutional law, judicial process, and legal procedure.
Landau was tasked with defending Robin Hood against the charges of assault on the Sheriff of Nottingham, and theft of the sheriff's jewels.
Able Fairfax lawyer David Hirsch was counsel for the prosecution, and Fairfax County General District Court Judge O'Flaherty presided over this capital case.  If convicted, lawyer Landau's client could face the gallows !
Landau was able to adroitly show that the incriminating evidence of the arrow retrieved from the sheriff's cloak bore the initials "RH," whereas his client's legal name was "Robin of Loxley," with the initials "RL." Secondly, the rule of Nottingham is "finders' keepers" and Robin testified under oath that he found the box of jewels in the forest.
Under Landau's cross-examination, the sheriff could not identify who actually shot the arrow during the alleged late night heist, or even who of the "Merry Men" was running helter skelter around the forest at midnight. Furthermore, Landau put Friar Tuck and Maid Marian on the witness stand. They both testified that the jewels had belonged to the church, and were stolen by the sheriff. "Therefore, Robin Hood cannot steal from the sheriff what was not the sheriff's property to begin with," noted Landau in his closing argument.
At the end of the trial, Judge O'Flaherty charged the jury, and instructed them that under Virginia law their verdict must be unanimous. If it is not unanimous it is "a hung jury".
Just like the students Landau has worked with at Rachel Carson Middle School in Herndon, these Crestview students took their jobs very seriously. The jury retired, selected the foreman, argued the facts, and returned with a unanimous verdict.
The result? Landau's client, Robin of Loxley, a.k.a. "Robin Hood," was found not guilty of all charges!
From that winning trial, Landau had to jump in his car and head to Prince William County.  Lawyer Landau was scheduled to try a case in Manassas for a Dulles Toll Road toll collector who had two broken legs, a back injury, and traumatic brain injury as a result of a vehicle crash on a rainy dark night.
As for the results of that case, stay tuned…