It's "Hammer Time!" – Civics & Constitutional Law at Rachel Carson Middle School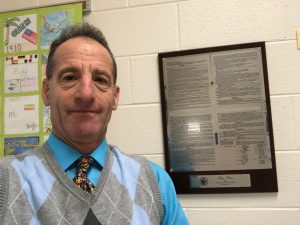 Returning for his 6th year of teaching Civics & Constitutional Law at the Rachel Carson Middle School, attorney Doug Landau brought his own gavel to "lay down the law" for these bright, hardworking 8th graders. Asked in the Fall by their wonderful teacher Cynthia Burgett to come back as a volunteer after five years of success at the "We the People" competitions, Landau "re-upped" for another school year.  Now that Rachel Carson is on a block scheduling program, lawyer Landau had to go online to see if he was coming two afternoons a week or three! Principal Stokes knows that he can expect Landau to roll in just before the bell and that the Herndon injury lawyer will likely not be the first one out of the "Kiss'n'Ride" carpool line!
Ms. Burgett's class of top junior high school students work hard all year. Landau puts them through their paces to get them ready to take on classes from around the country in the We the People (WTP) State, Regional and National competitions. The students and Landau work on: their public speaking, understanding of our country's form of government, Constitutional Law and precedent. Their grasp of this difficult material is unmatched. In the last five years, the Rachel Carson team has made it to the "final four" of the National We the People Competition every single time. Ms. Burgett's 8th graders have finished: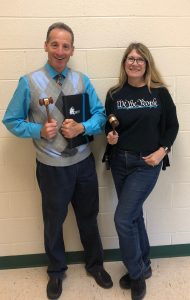 • 3rd in 2014
• 1st in 2015
• 1st in 2016
• 4th in 2017
• 2nd in 2018
Being National Champions twice and finishing near the top puts a lot of pressure on this year's students. However, Landau and Burgett are fortunate enough to be able to work with parent volunteers and others in the community who can come and work with the kids. Even Principal Stokes gets into the act! Lawyer Landau has been known to grab members of his staff and bring them to the school when Mrs. Burgett is short on volunteers and parents. He even dragged a University of Miami fundraiser from his Herndon law firm and had him help teach. Landau said later, "the UM Alumni representative was a Political Science Major, whereas I was pre-med, so he was able to help the students a lot more than he thought he could. Plus, he got the donation he was soliciting, so instead of a fancy lunch, we were able to help some deserving students."
On a more serious note, Landau readily admits that he has to be "on his toes" with these students, because they come to class prepared. "I learn as much from these 8th graders as they do from me!" Melissa Landau has attended several of the National WTP competitions, and she was astounded at the depth of their understanding of case law, legislative history, the creation of our Declaration of Independence and our all-important U. S. Constitution. Now that the kids are back from winter break, it's time to buckle down and prepare. Since Rachel Carson is only a two-year middle school, many members of the class are also preparing their applications for Thomas Jefferson High School for Science & Technology, and a significant number from this class go each year to this prestigious Northern Virginia high school. Landau has bumped into former students at the Worldgate Sport & Health gym and the Cub Run and Claude Moore Recreation Centers, as several of his "alumni" are on top local swim teams. Hoping that they can "hammer their way" to the Finals in 2019, lawyer Landau has already signed up for teaching dates in the new year.