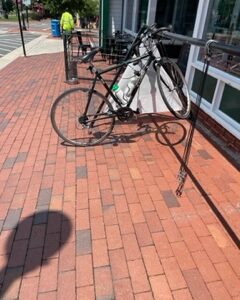 Is Your Bike Breaking Sidewalk Laws?
To ride your bike on DC sidewalks there are two restrictions. While bike riding is permitted under DCMR  
§ 18-1201.9
, you must abide by certain constraints.
.
When riding on the sidewalk, you must not create a hazard. This is a complex idea because there's no legal definition of a "hazard." In layman's terms, the phrase means that cyclists must decide if the sidewalk is safe to ride before they start their journey.
.
The second rule is that a cyclist cannot ride on the sidewalk if they are inside the Central Business District (CBD). The range of the CBD* is found in DCMR
§ 18-9901
. However, if an area is owned by the National Park Service*, even if the ground is confined in the CBD, bicycling is permitted.
.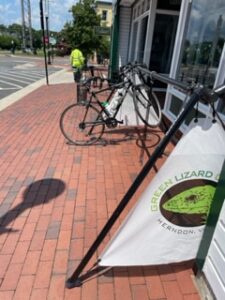 Bicyclists must operate their bike as if it was a motor-vehicle. When on the sidewalk, pedestrians still have the right-of-way. Bicyclists must be aware of their surroundings; they have a duty to ride safely to protect themselves and those around them. It's important that cyclists are aware of the newest updates and regulations to ensure their well-being.
.
.
*

CBD Range :

"2nd Street SW and NW, Constitution Ave NW, 23rd Street NW, and Massachusetts Ave NW"
* National Park Service CBD jurisdiction includes : "Lafayette Park, Farragut Square park, the National Mall, and Dupont Circle"