Injured Track Star Awarded Large Verdict in Truck Accident Against Sleep-Deprived Trucker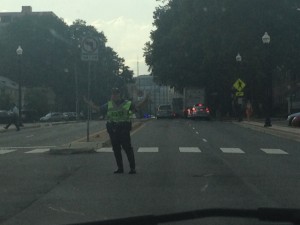 A track star and mother of two was recently awarded $664,328 by a Florida jury for compensatory damages for past and future medical expenses, as well as past and future pain and suffering.  The injured athlete was driving a car struck by a commercial truck whose driver had gotten little to no sleep the night before.
The truck driver initially denied responsibility, claiming he had the right of way since he struck the other driver while she was making a left turn.  After rejecting not one, but two offers from the injured plaintiff to settle the case (the first offer was $90,000, the second was $190,000), the trucker finally admitted fault and negligence — likely because it was discovered that he had not slept the night before.  The jury felt justice would be best served by holding the trucker responsible and issued the large verdict.
One preliminary aspect of this case, like any injury case, was showing fault.  Did the car's driver make an unsafe left turn without yielding to the oncoming truck, or did the trucker's actions somehow make him responsible for the crash?  Was the professional trucker's unsafe decisions the predominant cause of the collission ?
The second aspect of the case was to demonstrate how the plaintiff's injuries affected (and will continue to affect) her life.  Her attorney successfully presented evidence not only of the woman's financial costs in terms of medical bills (past and future), but also of the emotional cost in terms of her physical pain, anguish, inconvenience, embarrassment, scarring and mental suffering.  A central question is:  what kind of life did she lead before the accident and what kind of life will she lead after the accident?
"In cases like this where a person's life is dramatically altered due to the unsafe actions of another, a large verdict is required to replace what has been taken from the innocent victim," notes Herndon injury lawyer Doug Landau.  "This is especially true when you have a professional truck driver who is charged with obeying the laws relative to how many hours they are allowed to be on the road driving a multi-ton rig, potentially endangering other motorists on the interstate highways."
Just days after reading about this case, an article was published in USA Today about new limits on truck drivers' hours.  Our August 6th post explored how the two issues are inextricably related.