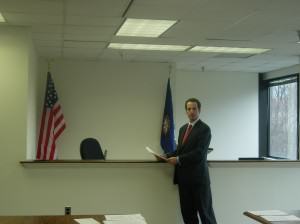 How Much Does the Injured Worker Have to Pay Back ?
an employer (or, more likely, their compensation insurance company) who is compelled to pay compensation as a result of the negligence of a third party and to prevent an employee from obtaining a double recovery of funds.
In 1994, the General Assembly adopted Code Sec. 65.2-313. Acts 1994, ch. 586. As pertinent, the statute provides:
"In any action or claim for damages by an employee . . . against any person other than the employer under Sec. 65.2-310, . . . if a recovery is effected, the employer shall pay to the employee a percentage of each further entitlement as it is submitted equal to the ratio the total attorney's fees and costs bear to the total third-party recovery until such time as the accrued post-recovery entitlement equals that sum which is the difference between the gross recovery and the employer's compensation lien. In ordering payments under this section, the Commission shall take into account any apportionment made pursuant to Sec. 65.2-311. For the purposes of this section, 'entitlement' means compensation and expenses for medical, surgical and hospital attention and funeral expenses to which the claimant is entitled under the provisions of this title, which entitlements are related to the injury for which the third-party recovery was effected."
This also includes ALL money paid under a settlement agreement.
So, if the workers comp carrier settles a comp claim, and THEN settles the third party bodily injury claim, the injured worker (or his family) has to pay the money back in the proportions set forth above.  In tomorrow's post, we will look at the interplay between the Circuit Court and the Virginia Workers Compensation Commission. If you or someone you know or care for has been injured as the result of an on the job accident AND it was the result of a car, truck, bicycle or motorcycle crash and there are questions about what laws apply, e-mail or call us at ABRAMS LANDAU, Ltd. (703-796-9555) at once.