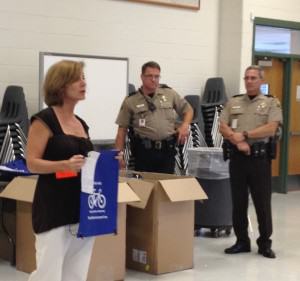 Herndon Law Firm Reaches Safety Goal at Loudoun County Elementary School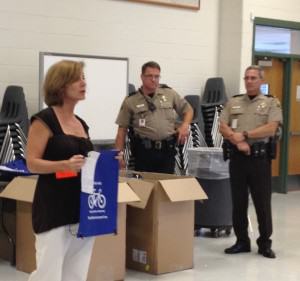 A milestone was reached today in Loudoun County.  The goal of giving out "a helmet a day" in 2012 was achieved at Rolling Ridge Elementary School in Sterling Virginia.  After last year's success protecting children from preventable head injuries, the Herndon law firm ABRAMS LANDAU determined to give out over 365 helmets to students this year.
Putting "lids on the kids" and educating children, teachers and families about brain injury could potentially save lives and devastating injuries.  With the help of the Loudoun County Police and the staff of Brain Injury Services, the Landaus were able to fit each child with their very own new Bell helmet.  The students were also given carry bags and information to bring home and share with their families.  Landau was gratified to see that some of these 5th graders were also crossing safety patrols and in positions were they could influence younger children.  Perhaps if enough kids wear their helmets, critical mass will be reached and it will be the rule, rather than the exception.  If that happens, then the costs to our community from preventable brain injury can be reduced.  For more pictures from the "put the lids on the kids" campaign, please visit the ABRAMS LANDAU Giving Page on FaceBook.