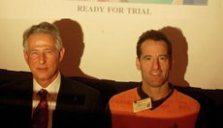 Get the right amount of car insurance for you and your family
The Law Requires Car Insurance
In Virginia there is a financial responsibility law. This law requires you to either insure your car (or motorcycle) with a certified Virginia auto insurance company, or pay an uninsured motorist fee of $500 and drive your car at your own risk. This law is designed to keep drivers who cannot afford financial liability off the roads completely
Your Virginia auto insurance policy must contain the following coverages:
Bodily Injury Liability: Virginia law requires coverage in the amount of $25,000 per person and $50,000 per accident;
Property Damage Liability: Virgnia law requires a minimum of $20,000 per accident to pay for car and other property damage;
Uninsured/Underinsured Motorist: The Minimum amounts allowed under Virginia law, are $25,000 per person, and $50,000 per accident (regardless of the number of people injured) and $20,000 for property damage
THESE ARE MINIMUMS ! They are not recommended by this office and may not be the best protection for you and your family. Consult your insurance policy and call your insurance agent to see about getting all of the coverage you really need. Understand that the Bodily injury liability insurance pays for the medical expenses, pain and suffering, and lost wages that you cause and are legally responsible for in an automobile accident, but only up to the limits of coverage you purchase. Property damage liability coverage covers damage to buildings, other vehicles and their contents, and other objects, such as street signs, rails, walls, etc.. Finally, and perhaps most importantly, Uninsured/underinsured motorist coverage protects you when you are injured by a driver who has insufficient or non-existing auto insurance coverage.
Your UNINSURED/UNDERINSURED MOTORIST COVERAGE should match your liability coverage. This coverage protects you from the costs of injuries, damages and losses incurred as the result of being hit by an uninsured or inadequately insured driver, and reimburses you on behalf of the un/underinsured driver. This is very important coverage, since approximately 25% of all drivers are uninsured, and since your medical coverage may be very limited, with no other coverage for your loss of income, additional medical expenses, disability, permanent injury, disfigurement, loss of time, pain and suffering, etc. Your coverage should always match the limits of your liability coverage, which can be split limits or combined single limits.
It is often recommended that you have LIABILITY COVERAGE of at least $500,000, and much more if you can afford it. You should have at least enough to cover your exposure for the cost of injuring other person(s) and to cover the exposure of your own personal assets and net equity (the value of all your assets: real estate, your home, income, personal property, bank accounts, investments, etc.). Auto policy limits can be either split limits or combined single limits. You should consider purchasing a minimum of $100,000/$300,000 bodily injury and $100,000 property damage, or preferably $500,000 combined single limits. Higher limits generally add very little to the premium payments. In other words, the lower limits tend to be more expensive on a dollar-for-dollar comparison. The higher limits, because they are unlikely to be paid, are usually much less expensive than the first $25,000, $50,000 or even $100,000. Most companies will write up to 1 million dollars single limit policy or $500,000/$1,000,000 split limit for a nominal increase in premium. To protect all assets, consider Umbrella Liability Policies to protect your personal (not business/professional) exposures and assets. This is insurance on top of your automobile, homeowners and other liability insurance policies. Depending on variables such as driving records, geographic location and age of drivers, premiums are usually around $200-250 annually for the first million dollars, with nominal increases up to 5 million. We will address Umbrella and other policies in a follow up article. Stay tuned!
Damages caused to another person are the personal responsibility of the "at-fault" driver, and typical minimum $25,000 limits are not enough to protect either the innocent injured person or the personal assets of the "at-fault" driver. So that you do not find yourself in the sad predicament of having a great case against the "at fault" driver, but be unable to collect your full damages because of your own insurance limits, please call us to discuss steps you can take to protect yourself, your family and your assets in the event of an accident. Looking at your car, truck, motorcycle or other insurance policy after an accident may be too late. Don't delay, look at your motor vehicle insurance policies today!
Photo: Herndon Trial Lawyer Doug Landau and VTLA Insurance Law Presenter Gerry Schwartz, shown at the Continuing Legal Education program held recently in Fairfax and attended by several member of the ABRAMS LANDAU team.