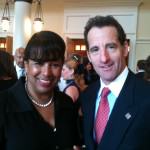 Free Joint Replacement Program; Learn About the Options
instruments.
IJRC is the largest joint replacement center in the Metro-Washington DC area, performing over 2,000 joint replacements annually. With the latest techniques and medical equipment, patients are returning to more active lifestyles. Herndon joint injury lawyer Doug Landau has attended past programs, along with ABRAMS LANDAU staff, and new insights are always gained and tough questions are always answered. While knee, hip and shoulder joint replacement surgery is not for everyone, workers compensation and disability lawyer Landau has seen friends, family members and clients make wonderful recoveries as the result of such operations.
A FREE Community Seminar on Osteoarthritis and Joint Replacement Advances will be held with Drs. Kevin Fricka, William Hamilton and Nitin Goyal:
Date: Wednesday, March 21, 2012
Time: 6:00 PM – 7:00 PM
Address: Laurel Hill Golf Club, 8701 Laurel Crest Drive, Lorton, VA 22079
Contact Phone: (855) 694-6682
Inova Health System is pleased to present our "Ask the Joint Replacement Expert" community lecture series. All lectures are free, but advance registration is requested. Register online or call 855-MY-INOVA (855-694-6682).